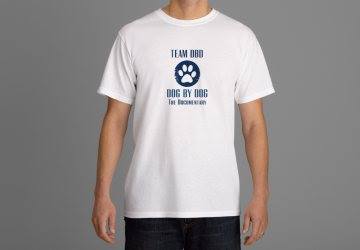 >So you love dogs and want to show the world your support for ending Puppy Mills?  If so, get your DBD T-shirt today!
They are made from 100% preshrunk cotton and have a classic, loose fit. Join your fellow dog lovers who have already received their shirts and help support a cause that helps saves the lives of many dogs around the world that are forced to live miserable, horrible lives in puppy mills.
If you take a photo of yourself with your 4-legged BEST friend, send it to us and we will feature it here on our blog! If you would like to help make this documentary with a donation to the non-profit making this film, visit our Support DBD page!
The DBD Team!