Literally every week, hundreds of dogs are saved by courageous, thick-skinned, and loving individuals that are willing to walk directly into the horror of puppy mills in the hopes of rescuing and saving a few lucky dogs. These folks not only have to deal with the heartbreak of being eyewitnesses to the abuse these dogs have endured for years, but also struggle with the fact that they must leave so many dogs behind in the hope that one day they can return and save them. The rescue itself is really only the first step in the process of rehabilitation and ultimately it will involve countless volunteers fostering, teaching, and finding a forever home for these dogs.
It doesn't have to be this way. If laws were enforced and large-scale dog breeders were held accountable for their actions, these dogs would not have to literally rely on this last hope, these saints willing to enter the mills. I mention all of this because we had the opportunity to conduct a hidden-camera operation on a mill rescue last week for DOG BY DOG.
I can not stress this enough, while the trip was a bit of an emotional roller-coaster for us, it was simply one visit. There are wonderful folks out there that do this multiple times a month and over the years have saved 1000s of dogs. They don't do it for attention or awards, but endure these emotionally-charged journeys for one reason: To save a life and give an abused dog the chance to actually live the life of being a dog with a name and home with love, heat, and food. Out of an abundance of caution and on the advice of the DBD attorneys, we are not mentioning the names of those that helped us capture the footage or releasing the location/names of the mills we visited. Of course in the film itself, we believe that we will be able to expose the breeders involved. We are grateful for all the individuals that made this trip possible and are hopeful that DOG BY DOG can help awaken a general public to the horrors of the mills.
For lack of a better word, we visited 3 large-scale "Amish puppy mills" and two smaller back-yard breeders on the day of filming. We were outfitted with 4 hidden-cameras and were able to capture everything we witnessed on the run. Since our group was larger then normal, we put crates in our car and acted as if we were simply their to help on such a large rescue (+15 dogs). While we were questioned a bit about who we were and one breeder was particularly interested in why our car had an out-of-state license plate, overall we had no issues. After a few days to process the trip, I thought I would just give you a few observations from that day.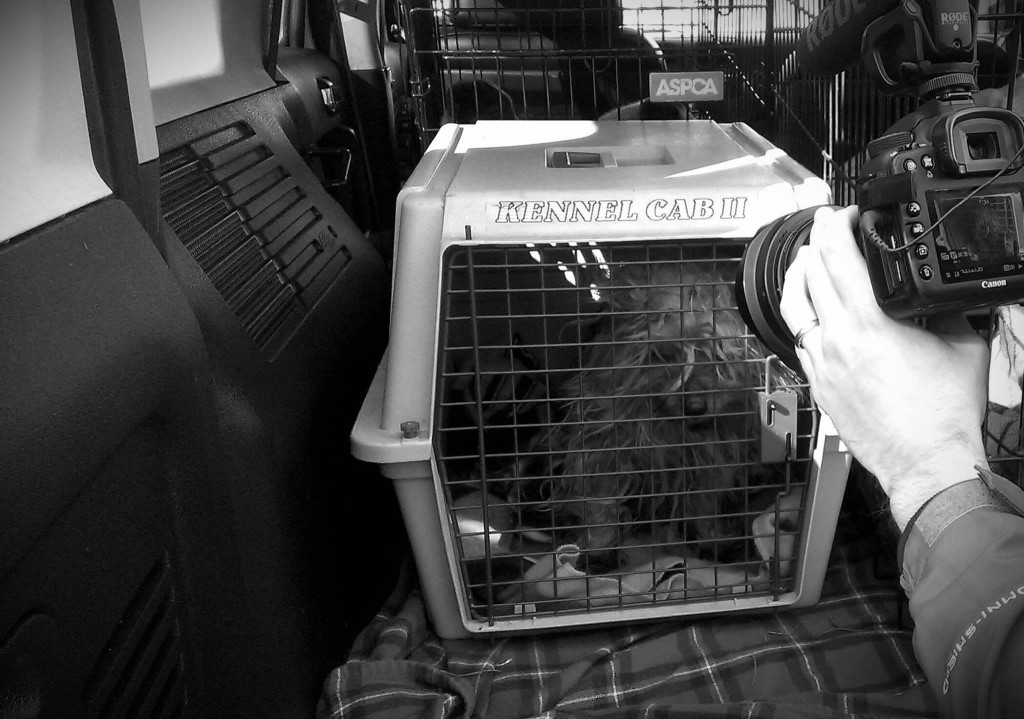 – There is no shame/embarrassment at the condition of the dogs: The fact that nearly every dog was covered in feces, had hardly any teeth, and clearly had never been groomed or washed, did not bother the breeder in the least. You are looking at this scared, shaking dog and the breeder is acting like it is an old toaster and talking about the weather. Think about it, if your neighbor was to treat a dog this way in your community, there would be outrage and likely they would attempt to keep their dark secret hidden. These guys had NO SHAME at the condition of these dogs.
– No idea how many dogs: We were looking at this massive outside structure at one of the mills where the dogs are out in the elements all year (on this day it was a high of 59 degrees and at night a low of 34 degrees) and Travis happened to ask the breeder, "How many dogs are up there?" The guy DIDN'T KNOW! He had no idea how many dogs were up there. After looking at the hidden-camera footage, we can count +79 dogs on the one side of the mill that we could see, and we could only see about 2/3 since the back part of it was hidden behind a barn. While we could not physically see them, I'm sure that there was at least the same amount of caged dogs on the other side of the facility.
– Love & Affection: One of the individuals we were with makes a point of instantly holding the dogs very close to his chest and whispering in their ear. Without regard to their condition or smell, we witnessed him do this with every dog that day. Even after years of neglect and abuse by these breeders, the instant that these dogs felt the compassion of a human they reacted with love and face licks. They were so desperate for the affection of someone, that you could almost see the fear slowly begin to melt away. I simply don't know how these dogs have the capacity to still love after all the years of abuse at the hands of humans. I think it says a lot more about dogs and their relation/connection to humans then anything else I have experienced working on DOG BY DOG.
I think that is enough for now.
THANK YOU for keeping DOG BY DOG on the road shooting this feature-length documentary. This trip would not have happened without your donations to our IL registered non-profit. If you wish to join the DBD Team and get a great DBD t-shirt or bumper sticker + the knowledge that YOU helped make this documentary, you can do so at our DBD Thank You page. I am so proud of the efforts of the DBD Production Team to keep everything on track and the film rolling. I am so blessed to work with such talented people!
Sincerely,
Christopher E. Grimes: Director of DOG BY DOG