DBD Production Date: 10/23 – 10/25
Location: PENNSYLVANIA
Wednesday – We sincerely apologize for the delay in getting this blog post up! Simply put it was an amazing trip of filming. After a busy evening of hidden-camera filming, we left the middle of Ohio for Lancaster, Pennsylvania early on Wednesday morning. We made a few scheduled stops at two suspected unlicensed puppy mills along the route and arrived in around Lancaster, PA after the 7 hour journey.  What happened next was probably one of the most rewarding experiences we have had filming DOG BY DOG.
We arrived at the home of some of our favorite warriors against puppy mills, Joey (13) and Anthony (12) DePasquale for a sit down interview on their experience rescuing and fostering mill dogs. As part of their campaign to raise awareness, the boys started a petition to meet with PA Governor Tom Corbett to discuss puppy mills. After garnering over 13,000 signatures, the boys early in month had the chance to meet the Governor and share their concerns. You can find out more about their story
in this article
The boys gave a wonderful interview and then we headed upstairs for the chance to meet and have dinner with some of our great DBD Supporters / Advocates for Dogs on the East Coast. I personally would like to thank Kate & Joe for welcoming all of us into their home and serving us, by far, the best meal of the journey! It was amazing to hear the group's stories of both despair and hope, but also share my vision for DBD with folks that have literally helped keep us on the road filming. We met a ton of great people, but out of an abundance of concern for all the efforts these wonderful folks are involved in, we are not going to share a group picture. Of course, if any of you great folks chose to share some photos, please feel free! 
I also wanted to personally thank Karen Doonan for everything she has done and continues to do for DOG BY DOG. Karen is not one to boast about her efforts, but the entire DBD Team appreciates all the work she has been involved with behind the scenes.  It was awesome to finally have the chance to meet Karen in person. 
Again, a huge thank you to everyone that came out for this special night. Travis and I left energized by this group of warriors to make the best damn film we can!  
Thursday – We were up early and headed to Harrisburg, PA for an interview with the Auditor General of Pennsylvania, Eugene DePasquale. The Auditor General had recently released a rather scathing report on the enforcement of the PA Dog Law during 2011 and 2012. Huge thank you to the Auditor General and his staff for making time for us and allowing us to take over his office! He was an awesome interview and a really nice guy to boot!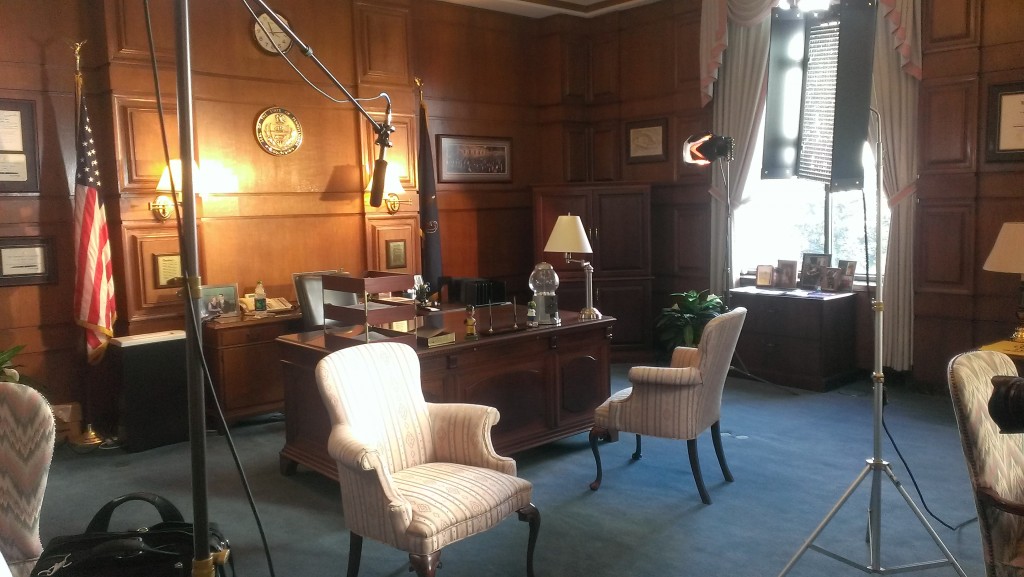 After leaving Harrisburg, we were off to one of our favorite cities, Philadelphia! We arrived in time for dinner with Jessica Sears of Project R.E.A.C.H and her husband, Josh. We LOVE the animal welfare program that Jessica developed for her school and her about the energy and excite her kids are showing for it.  You can learn more about Project R.E.A.C.H by visiting
their page
. One of the things we discussed was partnering with Jessica in order to take Project R.E.A.C.H to an even larger audience in the coming year. We will have a lot more on this later!! I would have included a photo from the evening but the lighting was not very good in the restaurant and Travis would be very disappointed if we ever posted something with bad lighting!!
Friday – We started off the morning with some wonderful meetings in Philadelphia to discuss sponsorships, film festivals, and distribution. A lot of good information was exchanged and we certainly are excited about where the project is headed. After spending some time on another project that afternoon, we headed off to Washington D.C. to see our families!
THANK YOU
I personally want to THANK YOU all for your support of DBD!  Last week literally would have not happened without your donations to our non-profit responsible for making this film! We are planning on hitting the road again next month so we will be providing details on that adventure soon. 
If you wish to join the DBD Team and get a great
DBD t-shirt
or
bumper sticker
+ the knowledge that YOU helped make this documentary, you can do so at our
DBD Thank You
page. I am so proud of the efforts of the DBD Production Team to keep everything on track and the film rolling. I am so blessed to work with such talented people!
Sincerely,
Christopher E. Grimes: Director of DOG BY DOG